Instant Pot Pro Crisp
The fabulous "Instant Pot" pressure cookers continue to improve. Even though the brand has been around for a long time, it continues to innovate with new features that let it do much more than just pressure cook. An Instant Pot will compensate for the space in your kitchen by steam cooking, roasting, air frying, baking, or even dehydrating. Another significant advantage of using an Instant Pot is the multi-tier construction. For a whole meal in one smart device, you may cook vegetables on one, fish on another, and even rice at the bottom of the pan. Furthermore, you may use dishwasher-safe inserts to ensure that cleanup is just as simple as the cooking.
The Best Instant Pot
1. Instant Pot Duo 7-in-1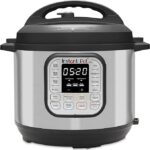 The Instant Pot firm makes a variety of multi-cookers, but the Instant Pot Duo 7-in-1 has been a regular best-seller. This traditional workhorse model best illustrates what multi-cookers have to offer. It's both practical and cost-effective. One of the things I like about Duo is that it comes in three different sizes, with the 6-quart being the most popular: It's large enough to feed up to six people while remaining compact enough to fit in a kitchen cabinet. The stainless-steel body resists smudges, and the attachments are dishwasher safe, making cleaning a breeze.
Duo User Manual
2. Duo Plus 9-in-1 Slow Cooker
With Duo Plus, you can save time and space on your counter by combining the functionality of nine features into one. It is easy to maintain, convenient to use, and added accessories like a steam rack. This model has innovative programmable programs and includes all of the standard one-touch Pot cooking modes, such as rice cooker, steaming, and slow cooker, as well as some additional features.  Duo Plus User Manual
3. Instant Pot Duo Nova
The Duo Nova is fundamentally the same as the original Instant Pot Duo but has a more extensive, modern digital interface. It's also worth mentioning that it's the only model with a 10-quart capacity, making it great for large families or people preparing a big meal. It also has a new release valve for steam and a progress indicator that tells when the it's coming up to pressure, cooking, and done. The Duo Nova has a stainless steel inner pot with a sealing ring, steam rack, and an extra seal ring, which is helpful because silicone absorbs odors. The main drawback is that the inside Pot does not have handles, so you'll have to be careful when lifting it after cooking.  Duo Nova User Manual
4. Instant Pot Ultra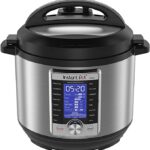 The Ultra series has improvements over earlier models. Delicious foods like Instant Pot chicken breasts, mac & cheese, and mashed potatoes may be cooked for up to 5 hours under high and low pressure, which is 1 hour longer than the Duo series. It comes in three sizes: 3-quart ($99), 6-quart ($125), and 8-quart ($160). For slow cooking, it's the greatest with this pot. The Ultra moniker refers to the ability to fine-tune characteristics such as temperature. From 104 to 208 degrees Fahrenheit, you can set the temperature to a single degree. Cooking time, pressure level, and delay time can be set to particular values.  Instant Pot Ultra
5. The Pot With Smart WiFi and Works with Alexa
The WiFi multi-cooker includes features in some and manages your cooking with Wi-Fi connectivity, allowing you to monitor, set, and control your cooking virtually. It has over 700 programmed recipes that can be accessed through the Instant Pot application. It even works with Alexa; just add voice control. You'll get a notification on your smartphone when your dish is almost done, and you can even transmit your cooking results and recipes to your family. Although it has three different "keep warm" temperature settings, this model is similar to the Duo Plus or Duo in terms of cooking functions.  Smart WiFi User Manual
6. Instant Pot Pro Crisp
The Instant Pot Pro Crisp is our guide's most expensive Instant Pot, but it does everything you could want. It comes with an air fryer cover, 14 pre-sets, and a digital display that allows you to monitor your cooking progress. In just 20 minutes, it can pressure cook a chicken. We then switched the air fry mode, which crisped the skin to perfection. The pressure cooker lid, as well as most other pieces of the Pro Crisp, may be washed in the dishwasher. It comes with a retractable air fryer basket that produces takeout-worthy fries, and the handles allowed us to jiggle the wedges for even frying. Pro Crisp User Manual
7. Instant Pot Duo V5
The Duo V5 is as simple to clean and use as it is convenient. The V4's intelligent programs, attachments, and cooking features are available on this model. That means it misses some of the more advanced features featured in more expensive devices, but we believe its functionality will make it even easier to use. The Release switch releases pressure with a button and is one of the many user-friendly design features. If you're not comfortable releasing your Pot's pressure manually, this can make a big difference. In addition, this model, like the V4, comes with ten safety measures, including a safe-locking lid.  Duo 5 User Manual
8. Duo Evo Plus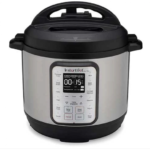 This Evo Plus features 48 pre-set controls for people looking for a versatile model that can perform pretty much everything. These include everything from slow and pressure cooking to preparing yogurt and cakes, among other things. Best of all, its 1200W heating element may reduce preheating time, which is excellent if you don't want to wait too long to eat. It has a chrome dial and a large, bright LED display with a progress indicator that makes it simple to operate. Even though the 48 settings appear overwhelming on the screen, you'll probably utilize your favorites. The Evo Plus is ideal for perfectly cooked rice, delectable soups, and pressure-cooked meat entrees. The Evo Plus also includes over ten built-in safety features, such as Overheat Protection and a stainless steel inner pot that can be used on gas, electric, and induction burners.  Duo Evo Plus User Manual
Choose The Right Instant Pot
When choosing the best electric pressure cooker, food-specific modes and choices will make all the difference. If you want to make your yogurt or adore hard-boiled eggs, it's worth spending a little extra money on an Instant Pot model that can do both. Instant Pot suggests a 3-quart model for one or two individuals when picking the proper size. The 6-quart multi-cooker will generally suffice for families of six or fewer people. Consider investing in an 8-quart model if you have a large family or frequently entertain large crowds. If you're still undecided about which Instant Pot model is best for your kitchen, check out Instant Pot's product comparison chart or its guide to picking the right cooker. These Instant Pot models include the basic pressure cooking and slow cooking modes the company is known for.
Having said all that, I bought the 3 quart Instant Pot and then found that it really was too small. So I went and bought a 6 quart and am much happier. I actually purchased the Farberware 6 quart because it was right next to the Instant Pot at Walmart and was almost half the price. Especially since I buy 5 pound of frozen chicken breasts at a  time for my little dog Mikey.  I just put them all in at once, add a cup of water, put the top on and set the time.   They are both great electric pressure cookers.  (I still have and use the 3 quart Instant Pot, too.)
Let me know your favorite…